Welcome back!!
September is upon us, and with this new month we bring you some of the dreamiest wedding highlights from our bride Nicole and her husband Nate's wedding!!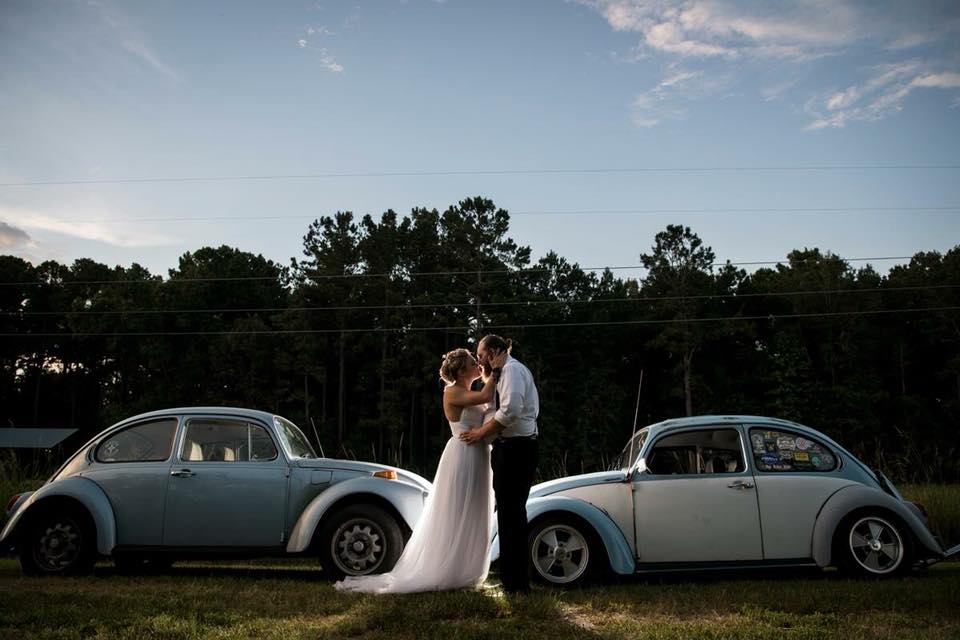 Nicole and Nate started dating after realizing that they both shared the same love for old school cars!! (How CUTE are those Beetles?!) The bride's dress was her grandmother's, and she had it altered to her liking.
We worked with this wonderful couple a couple of weeks ago and are super excited to share these photos with y'all. It was an absolute pleasure working with them, they're so sweet! Take a peek and tell us which photo is your favorite!!
Wedding Planner: Direct My Day Direct
Photographers: The Wedding Click
Venue: The Lake House at Bulow
Makeup: Alter-Image, Jasmine Jones
Hair: Alter-Image, Shelby Colclough

As you know we love Getting Ready Robes. Nicole got these adorable Robes for her Bridesmaids to wear while they got there Hair and makeup done to make sure that they can get dress without hitting their Hair out of place or accidently wiping off their Makeup when removing their shirts to get into their Dress. Also how fun is colorful Hair!! its so fun and looks so cute in photos did I mention her hair matches the Wedding colors!
The Dress! Nicole showed me pictures of her dress that was created from her Mother Old Wedding Gown. How amazing does the detail of the dress look! This Photo was taken in The Lake House at Bulow. This Venue is Located at Bulow County Park, the Lake House provides a perfect setting for quiet getaways, family vacations, wedding receptions, business meetings, family reunions, picnics, banquets, oyster roasts, and holiday parties. Our Team had the best Time working in this space. There was plenty of room for the ladies to get ready and the guys hung out on the upper side deck of the house and by the lake. This location is one of our favorite hidden Gem Wedding Venues in Charleston, SC